In-Person Events
Let us do the hard work for you! Tell us about your event and someone from our team will be in touch! 🧀🎉😊
Grazing Tables | Now offered NATIONWIDE
Tired of trying to find the right combination of appetizers that will satisfy everyone? Looking to add a colorful statement piece to your next event setup? Look no further.
Grazing tables are the perfect way to have a diverse food offering, while also being a focal point of any event. When you hire Platterful, we'll handle everything for you from designing the table to fit your space, procuring the perfect products for the season and then arranging and setting up the table for you, in your space.
Grazing tables are perfect for your next:
💍 Wedding
🎂 Birthday party
👰‍♀️ Bridal shower
🍻 Work happy-hour event
👩‍🎓 Graduation party
🎉 Retirement party
and so much more!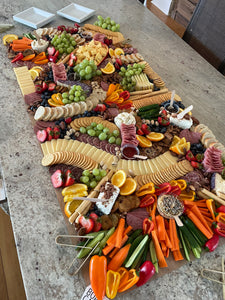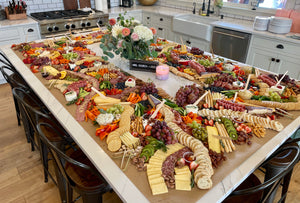 We're so thrilled to be able to now offer Platterful grazing tables nationwide thanks to our network of talented Charcuterie Artists. Now, no matter where you're located, if you have an event for 20+ individuals, we can reach out to a member of our network to get you an affordable quote for your next event.

Pricing is per person and starts at 20+ people. Submit the contact form below to get your quote today!