Corporate Gifting
Give your team the tastiest gift in America 🧀🎉😊

Scroll down 👇 and let us know a little bit more about the event you're planning.

Looking to give your team or customers a delicious experience that they won't forget? Inquire today about our kit bulk orders and pricing. In addition to large bulk discounts for corporate clients we offer: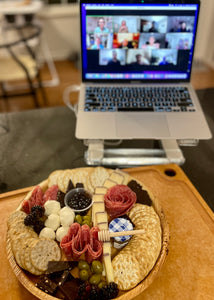 Virtual Charcuterie Class:
Looking for a virtual team building exercise or a fun and engaging way to connect with customers? Let us help! We ship Platterful boxes (and customized boards, if you'd like) to all attendees. Then, our charcuterie expert hosts a virtual board building class live.

We've done events for groups as large as 300 and as small as 8 for companies like Salesforce, Yelp, Google and so many more!

No matter the size of your group, we're here to work with you to make this year's gift one your team won't soon forget. Oh and for every box ordered, we donate 10 meals to children in need across the U.S. We're committed to fighting childhood hunger with every Platterful Kit.
Custom Logo Engraving
Include a customized bamboo wooden board with either your company logo or each person's name engraved to really enhance the experience!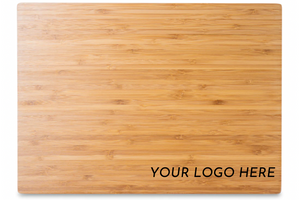 What're people saying about their experience?
Anna from Salesforce
"Tried and tested fun team building activity! I recently sent charcuterie kits to my whole team and it was a HIT! I collected delivery addresses and dietary restriction in a Google Form, they shipped the boxes out and the instructor guided us through the process and they turned out BEAUTIFULLY."
Jennifer from PCIA
"Lowell and Ryan at Platterful went above and beyond to make our gift-giving a success!  We ordered over 20 Large Charcuterie Kits and Platterful shipped them to each client's home.  Lowell worked with us to have the boards personalized with PCIA's company logo—classy, understated, and absolutely perfect!  Thank you, Gentlemen!  I highly recommend you and your team!"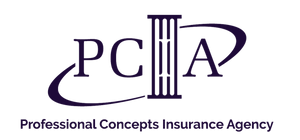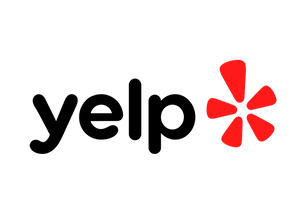 Caitlin from Yelp
"We wanted something easy going that didn't scream "sales pitch" because we truly wanted something without the pressure that was really FUN! In the world today, finding events that fit this criteria, while promoting conversation, and being available virtually is really hard to come by. But Caroline was an amazing host that taught us some great new tips and tricks for charcuterie board building (in fact I already used my salami rose skills at home), and also gave the group space to connect and converse through the event. Platterful also put the box together in one shipment and packaged it very nicely, which hasn't been my experience with other events from other companies. We had a really great time and definitely can see ourselves scheduling this event again, soon!"
T.J from Tri-Pointe Homes
"The kits were a huge success!  This was a last-minute order and your team really pulled off a miracle in getting them to all of our design studios on such short notice. We hosted a "virtual happy hour" for our fifteen design studios across the country and our teams loved being able to build their own charcuterie boards!  It was a fun team building exercise and everyone raved about how delicious everything was. Thanks again for the incredible customer service and for making our event such a huge success!"