Pierre's Charcuterie Class (April 2022)
---
Check out this tutorial video for your box!
Caroline walks you through how to create the perfect board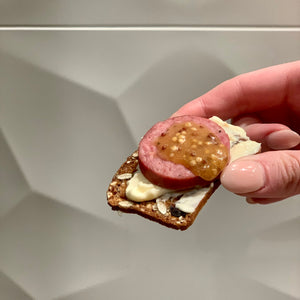 This Platter's 'perfect bite'
Each month we tell you what the "Perfect Bite" of your board is. This bite is the one that's going to send you to the moon and back again.

1. Fig and Olive Cracker (Bottom)
2. Smoked Gouda Cheese Spread
3. Summer Sausage
4. Raspberry Honey Mustard (Topper)
Pairs well with...
Each month we highlight an alcoholic beverage that this box pairs well with. Kick your feet up and relax a little, this month's Pairs Well With is:

Zinfandel

A Zinfandel was selected this monthy because it ehances the smoky flavor of the Gouda spread.
This 2018 "Vigneto di Evo" Zinfandel featured from Martinelli has energetic aromas of wild strawberry, sweet leather and star anise that will lift and fill your nose. The palate has balanced acidity and elegant tannins with layers of chocolate and black cherry. Sweet and juicy flavors of blackberry and baking spices linger through the finish.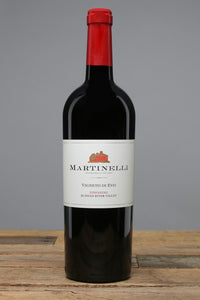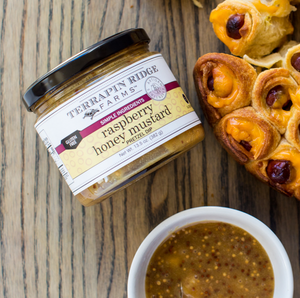 Artisan spotlight
In every Platterful box we highlight one brand that's worth caring about. This month's Artisan Spotlight is:

Terrapin Ridge Farms
Based out of Clearwater, Florida, the Terrapin Ridge Farms brand has grown from a handful of items to over 84 great selling products including savory jams, garnishing aioli squeezes, mustards, dips, dressings and sauces. They have developed a reputation as a truly original, high quality food creator. Their team is made up of passionate foodies with the goal to deliver on creating a memorable and positive experience that can be shared with loved ones, turning simple into unforgettable.
Have a question about your box?
What's that cheese package? Why did my ice packs arrive melted? I loved my Platterful box.. how do I give one as a gift? When will my next box in my subscription ship?

Have questions like these and many more? Click the button below to read our FAQs!
Frequently Asked Questions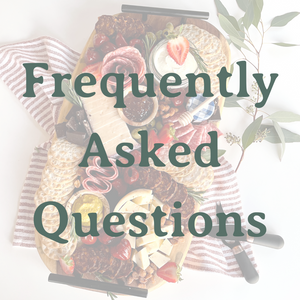 Find something you enjoyed? Buy more of it below!
---