Pierre's Charcuterie Class - June 2022
---
Check out this tutorial video for your box!
Caroline walks you through how to create the perfect board
For videos on salami roses and rivers, click here.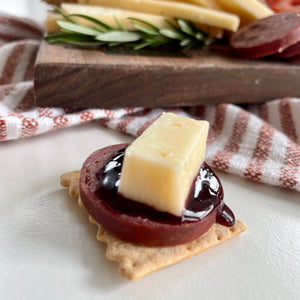 This Platter's 'perfect bite'
Each month we tell you what the "Perfect Bite" of your board is. This bite is the one that's going to send you to the moon and back again.

1. Olive Oil & Sel Gris Flatbread Bites (Bottom)
2. Cranberry Summer Sausage
3. Regina's Farm Kitchen Blueberry Lemon Jam
4. Raspberry Bellavitano (Topper)
Pairs well with...
Each month we highlight an alcoholic beverage that this box pairs well with. Kick your feet up and relax a little, this month's Pairs Well With is:

Cabernet Sauvignon

This month we wanted to highlight and accentuate the flavors of our Rosemary and Olive Oil Asiago Cheese. Asiago is a bold flavor that deserves to be savored and enjoyed.. and that's exactly what we're going to do with a classic "Cab Sav". You really can't go wrong with this full-bodied red.
Specifically we're excited to highlight the The Vice 2017 "The House" Cabernet Sauvignon for $34. On the nose are notes of currant and ripened cherry that build as it sits in the glass. Nearly 2 years of aging on French oak are discernible in a lengthy finish, which reveals a tannic burst of tobacco spice.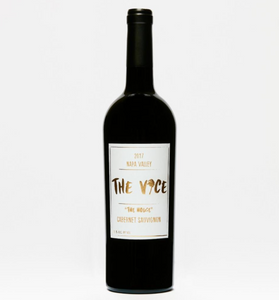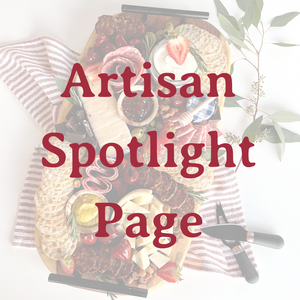 Artisan spotlight
We're proud to introduce our new Artisan Spotlight page! An entire page continually devoted to our awesome partners who make putting together your box every month possible? Say less!

Click the below button to head on over to the Artisan Spotlight Page to show them some love and support!
Artisan Spotlight
Have a question about your box?
What's that cheese package? Why did my ice packs arrive melted? I loved my Platterful box.. how do I give one as a gift? When will my next box in my subscription ship?

Have questions like these and many more? Click the button below to read our FAQs!
Frequently Asked Questions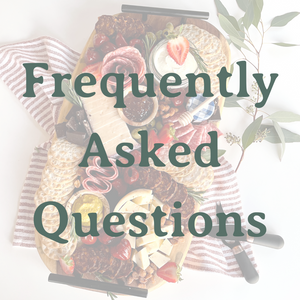 Find something you enjoyed? Buy more of it below!
---